Text and pictures by Alex Dell
Born in England and residing in Southern California at the present time, Alex Dell, an experienced Experimental Airplane pilot and constructor is also a PPG enthusiast.
Alex Dell started free flying lessons with Torrey Pines in San Diego back in the summer of 98, but he always wanted a paramotor. After receiving his P3 rating, Alex purchased an Adventure F3 which clocked up about 80 hours
before selling it and having completed his homebuilt project. He flew most of the motoring and free flying hours on an Edel Atlas which was a good wing as he says, but now he has the Mac Para Eden 2 and " I can't say enough about how impressed I am with this wing" he wrote to me.
Alex has just finished building a Kitfox Ultralight Aircraft too, so "I've got this flying bug pretty badly" he confessed.
Having in mind the advantages of a liquid cooled engine for Powered Paragliding application Alex Dell has taken an unprecedented endeavor for an amateur: adapting and utilizing a Kawasaki engine to power his home-built paramotor.
He has flown his machine at the Ocotillo Wells PPG convention in February 2002.
I truly believe that his innovative solutions could be used by some PPG manufacturers.
I am glad to present Alex's article on the Inventions Page.
Congratulations !
Alex L. Varv
My Home Built liquid-cooled PPG
After logging about 80 hours on my Solo based Adventure unit, and having learned about the Liquid Cooled Cors-Air engine, I started thinking about building a liquid cooled PPG myself.
Liquid cooled engines have been used in aviation before and except for the added weight, they perform surprisingly well. The secret is a much better and even cooling. They are also quieter.
In my application, the added weight is not significant and the benefits are considerable.
The frame is based on the DK design but totally scratch built by me. It uses an Adventure harness - that was the only part that I didn't want to make.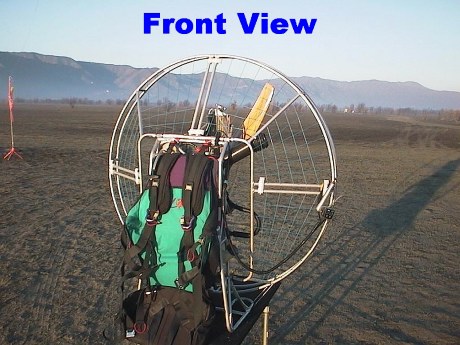 The prop is a Beres & Hirsh. Dave carved it out of an F3 blank at Ocotillo for me. It has a 17degree pitch from the 22 degrees of the F3. 45inch diameter.
The engine:
In fact all this started as an attempt to get a 4 stroke engine working and I tried 2 different Honda engines before giving up due to lack of sufficient power. Then, the next engine came along.
I used a KX80 Kawasaki motocross engine. The propeller drives off the back of what was the clutch and so, it uses the internal original reduction gearing of 3.7 : 1 in an oil bath.
Top rpm is about 10,500 at full throttle and cruise is about 7,500 - 8,000 RPM.
Unlike other PPG small overevved engines used in our sport
this one has a good safety margin just like any aviation engine should.
The engine has a removable outer clutch access cover which is where I attached the prop drive. Basically, I took the original clutch and cut away all but the primary drive and bolted a new shaft onto that gear. It uses the original gear driven primary drive of 3.7 : 1. Also, it retains the centrifugal power valve to lift the exhaust port at higher rpm for more top end power. The rated output of the engine is 27 hp but with the exhaust setup I put on it for lower noise that has been reduced I'm sure. This is another safety feature, since the engine is not exploited to its full power. The rest of the transmission has been removed and blanking plugs installed.
I adapted a recoil starter from an atv and it starts so easily it's almost silly.
The idle is very steady and dependable.
The power delivery is quite peaky, you can feel the engine come on the pipe in the mid range and the power hits hard. Sometimes it feels like the engine is seizing, but it is simply the fact that one has gradually let off the throttle and it suddenly drops off the pipe. Usually, level flight cruise is just under that power band at about 7,000 - 7,500rpm. Top rpm is 10,500 but it is set a little rich to be on the safe side. The engine spec max power is at 12,000. I don't have a CHT on it but have had no problems with overheating. The gas tank holds just over 1 gallon and I can fly about 1 hr on that.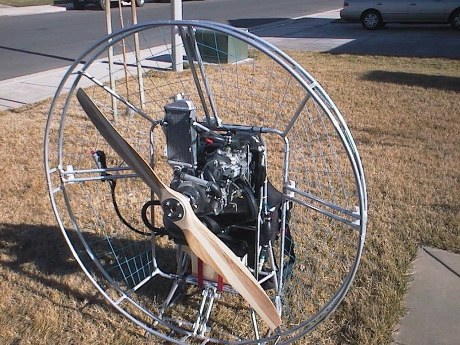 The overall dry weight is about 65lb but there is definitely room for improvement now that the package works well.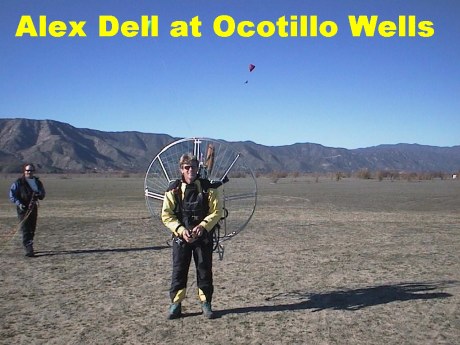 So far, it has logged 16 hrs with no problems at all.
I haven't even put a plug in it. The static thrust is about the same as the Cors-Air or Simonini - bags of power!
Fly safely!
Alex Dell